Bailleul
Bailleul was occupied on 14 October 1914 by the 19th Brigade and the 4th Division. It became an important railhead, air depot and hospital centre, with the 2nd, 3rd, 8th, 11th, 53rd, 1st Canadian and 1st Australian Casualty Clearing Stations quartered in it for considerable periods. It was a Corps headquarters until July 1917, when it was severely bombed and shelled, and after the Battle of Bailleul (13-15 April 1918), it fell into German hands and was not retaken until 30 August 1918.
Commonwealth War Graves Commission
Mapping hospitals in Bailleul

View WW1 Australian hospitals & significant sites on the Western Front in a larger map
No. 1 Australian Casualty Clearing Station
1 A.C.C.S. was at Bailleul (called variously in the war diary 'College of Sacred Heart', 'St Joseph College') from 19 May 1917 until late July 1917.
In preparation for the Flanders offensive, on May 19th No. 1 opened up in Bailleul, in the College of St. Joseph and on vacant land adjoining; 50 marquees were erected and some 300 yards of planking laid down. During the Battle of Messines this unit worked in conjunction with Nos. 2, 11, and 53 British, and between June 6th and 9th admitted 2,450 wounded. In July Bailleul was heavily bombed – hardly a matter for surpise – and the unit suffered a number of casualties including one Sister wounded [Sister Rachel Pratt, M.M.]. In consequence, all the stations were removed, No 1 Australian to a site between Bailleul and Oultersteene. 108 lorry-loads of equipment were transferred to the new site, where a tented and hutted hospital was erected to accommodate 750 patients, and work was recommenced.
Butler, A. G. The official history of the Australian Army Medical Services in the War of 1914-1918 – Vol II, pp384-385.
No. 1 Australian Casualty Clearing Station
Where was No. 1 A.C.C.S. located in Bailleul?
When visiting Bailleul in September 2011, we were fortunate to meet with Gérard Lemaire, an engaging historian with a great passion for Bailleul and Outtersteene (his parents' home town). As a former nurse, he is particularly interested in the medical history of the Great War. The owner of our B&B – Les chambres de Mélusine, highly recommended – had passed on to Gérard our interest in 1 A.C.C.S. and the question – where was 'St Joseph College'? This was the site of the C.C.S. recorded in the unit's war diary. Gérard may have solved the puzzle.
The first key piece of evidence he produced for us was a police report dated 4 July 1917:
Bombes sur BAILLEUL

Dans la nuit du 3 au 4 juillet à 3 heures I/2 trois bombes ont été jetées sur BAILLEUL.

Deux sont tombées au lieu dit : Verte Rue c'est-à-dire entre le nouveau-Monde et la Blanche Maison […] la 3éme a blessé légérement une infirmiére anglaise en éclatant derrière l'hopital de la rue Benoit-Cortyl.
Commisariat de Police de Bailleul (Nord)
On the night of 3-4 July 1917, Staff Nurse Rachael Pratt was on duty at 1 A.C.C.S. and attending a patient when a bomb exploded near the tent, wounding her in the chest. This police report appears to refer to Sister Pratt.
The name Rue Benoît-Cortyl is maintained in a street north of St. Vaast church. Gérard noted that a large building, a school for boys, was located behind this road. The school is typical of the large public buildings that were requisitioned for hospitals.
Rue Benoît Cortyl, "St Joseph"?
Gérard Lemaire found this connection between the Ecole libre de Garçons and Saint Joseph.
Other C.C.S. locations
2 C.C.S. – Jesuit college, Rue du collège?
18 October 1914 – September 1917
"No 2 Casualty Clearing Station (or No 2 Clearing Hospital as it was called when it first got there) arrived at Bailleul on the 18th October 1914 and opened in a seminary about a mile from the railway station Taken from the Official History" – GWF
Following is an extract of a report on the operation of an aid station at Bailleul at the beginning of the war. This aid station in the Jesuit college then became a hospital. The college had a large chapel, the church of St. Amand (part of the ruin of the church now forms part of a striking war memorial). The word 'seminary' corresponds perhaps with 'Jesuit college'?
Rapport sur le fonctionnement du Poste de Secours de BAILLEUL (Nord)

Le petit Comité de l'Union des Femmes de France fut fondé au mois d'Août 1914 par Monsieur le Professeur BEDART. Délégué Régional près du 1° Corps d'Armée. Dès le début des hostilités, quelques infirmières bailleuloises étaient allées spontanément offrir leurs services et surtout leur bonne volonté.

Il fut convenu avec la municipalité de Bailleul et la préfecture du Nord qu'un dépôt d'éclopés serait installé au collège, dont les locaux furent offerts gracieusement, ainsi que la literie, par le Supérieur du collège, Monsieur l'abbé COURTOIS.

Pour approvisionner en linge cette petite formation, pour alimenter la cuisine, les infirmières, auxquelles s'étaient joints cinq infirmiers volontaires, firent en ville une collecte. Un petit capital fut ainsi constitué ainsi qu'une réserve appréciable de linge.

Les circonstances firent que la région de Bailleul devint le théâtre même des opérations militaires. Les allemands occupèrent la ville pendant une semaine. Après leur départ, ce ne fut pas des éclopés qui vinrent occuper l'Ambulance aménagée avec tant de soins, tant de goût délicat même, par les infirmières bailleuloises, ce furent, hélas les grands blessés des sanglantes batailles de PLOEGSTEERT et d'YPRES, de tragique mémoire.

Dés les premiers jours d'Octobre, Français, Anglais, Belges, Allemands, occupèrent jusqu'au moindre coin disponible. C'était une affluence navrante de pauvres êtres pantelants. On avait à peine le temps de les panser, parfois car il fallait les évacuer au plus vite, l'ennemi restant proche. Les Nurses anglaises ne vinrent qu'au mois de Décembre, jusqu'à leur arrivée, les infirmiers et infirmières de BAILLEUL se multiplièrent, s'adaptant de leur mieux aux habitudes, aux méthodes, au langage des médecins anglais, venus à BAILLEUL pour prendre leur secteur de combat.

C'est aussi à cette époque, exactement le 21 Novembre 1914, que le collège de BAILLEUL, devenu hôpital militaire, fut bombardé, de très près par un avion boche que n'arrêtèrent pas les Croix Rouges marquant la qualité de l'établissement. Deux blessés furent tués dans leur lit, un infirmier anglais périt également, d'autres reçurent des blessures plus ou moins graves, les infirmières françaises étaient toutes présentes.
Information courtesy Gérard Lemaire
3 C.C.S. – The asylum (Maison de Santé), near the aerodrome
May 1915 – March 1916
May 29th 1 a.m. I should just like to describe my surroundings. You know we are in the asylum, a huge building on the top of a high hill, overlooking pretty country. Well now, I have spent the last hour standing on a table in the bunk, looking at the night, the full moon is facing this way, slowly setting in a sky brilliant with stars and softened by a few light clouds. The land all looks black, hills and trees standing silhouetted clear against the sky, the horizon is alive, with the battle rockets are shooting up, guns firing, and the star lights that shew up where the trenches are, shoot up and float gracefully down. I can distinctly hear rifle fire too crackling in the distance. Inside the asylum I can hear the peaceful slumber of the officers orderly, there are only two sick officers and they are all right, so I shall not wake him up. Peace reigns.
Sister Edith Appleton O.B.E. R.R.C. was with 3 C.C.S. from May to November 1915. The description above is excerpted from her diary. Hear her description of Bailleul in episode 1 of the BBC Radio 4 reading.
It was established in a fine lunatic asylum on high ground outside an old market-town. the original patients remained, but we occupied a block separated from the rest of the building by a wooden barricade. We saw them occasionally and heard them often. The surrounding country is quite pretty and was then at its best. From wooded hills within walking distance we could see right across the plains to the sea and beyond the firing line far into Belgium. Trenches could only be made out with glasses. We got many cases of gas poisoning in May and June – worse on the whole than in the first attack. Fortunately the wards were ideal for nursing them – tiled floors, large windows the whole length of each side wall, and no superfluous furniture. Lights were strictly limited at night, and it was rather ghastly on night duty. Most of us agreed that we would rather nurse double the number of seriously wounded. After the second gas attack, convoys of wounded generally reached us about 4 am, and as the hospital train left at 9.30 am, we had our work cut out to get them ready in time.

I left for duty at another clearing station in July but got the chance occasionally to go back and see old friends. Shortly after one visit I was horrified to hear that a 17 inch shell had made a direct hit on the night orderlies' tent and blown it to pieces. Four were killed and two wounded – one of the former was to have gone on leave that very day and he was the best orderly we had. The Sisters were sent away again and the hospitals in the town at once emptied of patients but, curiously enough, the place has never been shelled again.
Sister Kathleen Mary Latham – Scarlet Finders
02.06.15 […] No.3 is now established in one of the detached blocks in a lunatic asylum, which is situated in most beautiful grounds – their block has been fenced off. The Authorities are kindness itself, supplying them with beautiful cut and pot flowers, and doing the Nursing Staff personal washing free. The inmates of this asylum are women, between 1,000 and 2000, and among other things they have a large laundry, which is run by the poor inmates, many of whom are quite young healthy looking girls.
WAR DIARY: MATRON-IN-CHIEF, BRITISH EXPEDITIONARY FORCE, FRANCE AND FLANDERS
8 C.C.S.
January 1915 – March 1917 [NOTE: date from Ministry of Pensions list that does contain errors]
"This shows No 8 CCS, Bailleul on 2 May 1915. Then men are victims of the chlorine gas attack on Hill 60 of the previous day, mainly 1/Dorsets, placed outside to aid their breathing. I would very much like to know where the building is and whether it still stands. The No 8 CCS War Diary is ref WO95/342 which I looked at many years ago but did not note whether it gave the exact location." – GWF
It is possible that 8 C.C.S. was located in the same building as 1 A.C.C.S. – see above.
11 C.C.S. – 'Bailleul Ambulance Siding'?
May 1917 – July 1917
Three sisters at 11 C.C.S. were awarded medals for bravery in Bailleul.
BOWLES, Linda – Sister, QAIMNS Reserve
GILBERT, Louisa – Staff Nurse, QAIMNS Reserve
SPENCE, Cissy – Sister, QAIMNS Reserve
Following text from London Gazette 17 September 1917 was printed for each:
At Bailleul Ambulance Siding. This lady was on duty on the night of the 6/7th July 1917, at No.11 Casualty Clearing Station. For about three hours bombs were repeatedly dropped in the immediate vicinity of, and eventually into the Casualty Clearing Station which was under canvas. There were some 250 patients in the Hospital at the time, 27 were killed and 68 wounded amongst the patients and personnel as the result of seven bombs dropped on the Hospital. Throughout, she continued her duties amongst the patients, helping to calm them and tending to those wounded in the bombardment. She showed most remarkable coolness and devotion to duty, and gave a splendid example under very trying circumstances.
Presumably 11 C.C.S. was located near Bailleul train station.
53 C.C.S. known as North Midland
CCS

– across from church Saint Vaast, the Asylum

September 1915 – March 1916 and July 1917 – March 1918
"View of the eastern side of Bailleul. A cross on a roof to the right of the spire, made by Captain (Capt) Winn, marks the building where he had his foot amputated…" AWM P05859.010
Captain (later Major) Roy Coupland Winn's service record shows he was admitted to 53 C.C.S.
In 1918, the Matron-in-Chief states that 53 C.C.S. is in the Asylum:
06.01.18 […] We then went to No.53 CCS at Bailleul, where we had lunch and where we inspected the Clearing Station which is one of a block of a large Asylum. Everything is most comfortable and well arranged as far as the patients are concerned. The nursing staff are accommodated in small rooms at the ends of the big wards and their mess and ante-room was in a single-lined marquee in the grounds, badly lighted and with not even suitable or adequate heating conveniences, whereas the Medical Officers had a large hut, with kitchen, scullery, ante-room and mess, with fine big open brick grates in each room. Here we had lunch. I reported this matter to the General later as it is one of the exceptions in all the Armies where the Medical Officers have failed to consider the comfort and actual necessities of the nursing staff.
SUMMARY OF INSPECTIONS AND WORK DONE DURING THE MONTH AWAY FROM HEADQUARTERS – The official war diary of the Matron-in-Chief with the British Expeditionary Force in France and Flanders – Scarlet Finders
1 Canadian C.C.S. – Asylum
19 January 1916 – 4 March 1917
Unit war diary (page) states that the Canadians took over from 3 C.C.S., locating the Canadian hospital at the asylum. Dates according to The Regimental Rogue and 1 Canadian C.C.S. war diary.
First gas attacks
Before making any general remarks, or writing of the later period of the War, it is thought necessary to make allusion to one of the most trying experiences which took place at this early period, and one full of the greatest difficulties to contend with from a Nurse's point of view. Reference is made to the 2nd Battle of Ypres, and the 1st gas attack of May 1st 1915. It was exceptionally trying on account of the extraordinarily large number admitted, and the unusually high percentage of deaths, but particularly so as every effort made, seemed of no avail to relieve the sufferings of the patients. Every conceivable remedy was tried, even to the administration of chloroform. The staff worked almost unceasingly, 20 hours on end, but could see little result for their work. The Hospitals at Bailleul were full, the grounds were full, and the fields around were full of patients gasping for breath, shouting out for drinks, and unable to lie still on their stretchers. Large jugs full of Mist. Expect. Stim. were taken round unceasingly the whole time. It was a dreadful experience for all.
THE WORK OF THE NURSING STAFF IN CONNECTION WITH THE CASUALTY CLEARING STATIONS IN 1914, EARLY 1915 AND AT A LATER DATE – E. M. McCarthy, Matron-in-Chief, British Troops in France and Flanders, 31.7.19. – Scarlet Finders
Aerodromes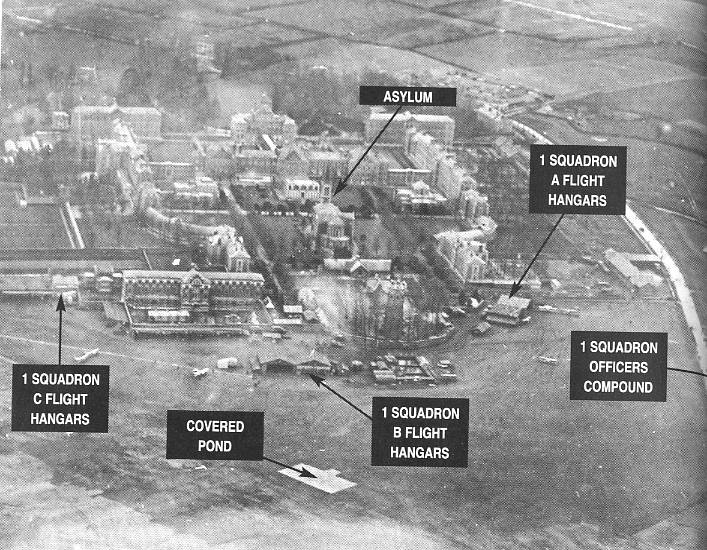 Images & sketches
See also
Bailleul, 2011
Credits
Special thanks to Gérard Lemaire, Cercle d'histoire et d'archéologie de Bailleul.