Dieppe
Dieppe was used by Commonwealth forces as a minor base from December 1914 onwards, particularly for supplies of small arms ammunition, forage and flour. From January 1915 to May 1919, "A" Section of No.5 Stationary Hospital was stationed in the town. During this period, 219 Commonwealth burials were made in Janval Cemetery, a large civil burial ground. Most of the graves form two plots in Section T, but there are also three burials among the French and Belgian military graves in Section U. Section F of the cemetery also contains a small plot of 29 Second World War burials, mostly dating from the early months of occupation, before the evacuation of the British Expeditionary Force in May 1940.
Commonwealth War Graves Commission
No. 5 Stationary Hospital
A post on the Great War Forum suggests the hospital was located at 4 Ave Gambetta (map link).
This camp looks like a miniature of No. 26 [at Étaples]. We six newcomers are to live in a hut in the hospital grounds – the rest of the staff are billeted in a house about five minutes walk from here. We will have to go down to them for meals…

Dieppe is very hilly – such steep hills, too. The town is very attractive – very nice shops and the beach is quite gay – a shingle beach thronged with people. The big casino and all the large hotels along the sea front are now being used as hospitals or convalescent homes.

28.7.1917 We are a very discontented family here – if we were here on this side of the world just for a holiday it would be alright but though we enjoy sightseeing and the rest and change, we all know what the rush of work is at No. 26 and long to be back. The hospital is beautifully kept — the huts are spotless, polished floors, white covers for the beds and lockers. There are more orderlies than patients at present and of the patients there are no seriously wounded ones. Our work is most uninteresting, merely probationer's work…

30.7.1917 The nursing staff here is an Australian one but the medical officers and orderlies are English. There are four long huts, each divided into two wards. Hut One has the acute (so called) cases, surgical one end, medical the other. Two and Three are medical. Hut Four is our present residence. Then there is an officers' ward – divided into four, a skin ward and various huts for convalescents.

3.8.1917 We had lunch today with Mr Simmons at the Convalescent Home for Officers. It is at Hotel Grand – a magnificent building facing the plage. Here they can accommodate 105 officers. The dining saloon is large and well appointed. We sat at a table overlooking the sea. After lunch we went to see a submarine at the docks. Later on we visited the Hotel Royal to see Sister Kathleen Levy. She is a South African and has nursed French soldiers since the commencement of the war. She is self-supporting and provides many little luxuries for her poilus. The French soldiers do not seem to get as many luxuries in the way of food as the British do. Hotel Royal is one of the largest and in Peace times, one of the most expensive hotels in France. Now its rooms and banqueting halls are filled with sick and wounded French soldiers. There are gorgeous views from upstairs. The large hall downstairs is used as a dining hall for convalescents. The theatre is quite up to date. We saw there a huge magnet extracting pieces of shrapnel from a wound.

24.8.1917 The time here seems less wearisome than when we came. I am in a medical ward now and have some very nice boys to nurse.

They have almost completed the erection of several large new huts in this camp. Adrian huts they call them. They are very long and instead of windows, there are canvas shutters which can be hooked back to let in air and light. These huts are built before we get them and just have to be put together. We have been told that the greater part of the construction is women's work.
Elsie Tranter, In all those lines
Dieppe in Sister Elsie Tranter's diary
Golf links and cold nights
28.7.1917 We went to the lighthouse then, on the way home, called at an old chateau built over six hundred years ago – very quaint. The golf links and tennis courts are quite close to the hospital. They are beautifully situated on the cliffs overlooking the sea.

We have very cold nights here sometimes, heavy fogs and sometimes frost. On the foggy nights the sirens and fog horns keep up a constant din.
Mixed bathing is all the rage
30.7.1917 There are some very fine houses here – large and well built with beautiful gardens and grounds. Lots of the gardens are enclosed by high stone walls and have lych gates. In the thatch over the gates, ferns and ivies grow. On the beaches and in the towns we see some beautiful kiddies. They are so different to the little children of Etaples.

The beach is a shingle one and mixed bathing is all the rage. At any hour of the day, the plage presents a very gay spectacle. Lots of red and white bathing tents erected, deck chairs with their gay sunshades – and the frequenters of the plage with their pretty frocks. Bathing is only allowed at certain times and then a flag is unfurled to show all is well. A fishing boat plays about all the time the bathing lasts, just to be ready in case of accidents. The bathing costumes are very gay and many of the fair mademoiselles proceed very leisurely from the tents to the water so that one is able to admire well both costumes and bathers. It is quite a change for us to see so many well dressed ladies and children, for at Etaples the only people we saw, apart from those in uniform, were the none too clean fisher folk of the village.
Alas, no cameras are allowed
24.8.1917 In this district there are hundreds of English girls belonging to the Women's Auxiliary Army Corps (WAACs, they are called). These WAACs dress in khaki and a fair number of them wear their hair closely cropped so, from a little distance, it is hard to distinguish them from the soldiers. Numbers of them work at the bakery – it is in this town that bread for the troops is made – others are at the laundry, are motor drivers, clerks or labourers.

One could spend quite an interesting day in the town here just noting the different uniforms and badges. Here we see English, Scotch and Australian soldiers- the Tommies with their straight cut coats and caps, the Jocks in the kilt and either a Glengarry or Balmoral cap, and the Diggers with their comfortable looking tunics and slouch hats. Then the French and Belgian soldiers in bluey grey-the Belgian soldiers wear quaint little caps with a little tassel dangling over the forehead. The French and Belgian officers look very smart with their braided uniforms. Close to the town there are Chinese camps-the Chinese belong to a Labour Corps. They wear havy blue drill and any sort of hat or cap. Some of them wear-on cold days-a close fitting cap lined with rabbit skin, while on the hot days we often see them with wide straw hats. Then there is the South African Labour Corps, with khaki and slouch hats; and the Algerians, wearing white trousers. Some of them wear red or blue coats with light buttons and a fez. Then there are Australian, English and Canadian sisters, VADs, WAACs and both French and English aviators, naval officers and seamen. Quite a sufficient number of types to satisfy any camera fiend but alas, no cameras are allowed.
Notre Dame de Bonsecours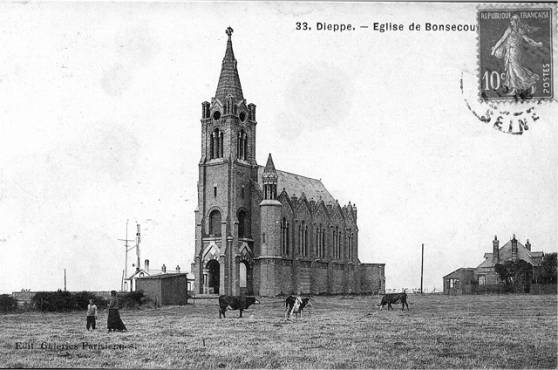 After leaving Mademoiselle, we crossed by ferry to the other side of the docks and then proceeded by a winding path up the cliff on the other side. The caves in the cliffs are all inhabited by the fisher folk. About half way up we passed an old caravan fitted up with curtains, pots, pans, dirt, women and children – the 'humans' all looking quite happy and contented. From the top of the cliffs you can see for miles round the coast and for miles across country. In most of the towns in France there is a crucifix overlooking the water-whether sea, river or lake and on the summit of many of the hills. After passing the crucifix on the cliff, we came to a funny old cow shed on the side of which is a notice in big yellow letters, 'LAIT CHAUD A LA VACHE'.

Presently, Madame came along accompanied by the cow, a pail and a glass. She milks into the glass and serves her customers one after another with lait chaud, but makes no attempt to wash the glass between times.

When tired of watching this performance, we passed on to the church, Bon Secours. The church, though small, is very beautiful. Practically the whole surface of the inside wall is covered with the pencilled prayers of French and Belgian soldiers. Most of these were rather pathetic but one rather amused us. It was that of a boy asking that his brother would soon repay the Fr 100 he owed him.

It was especially interesting visiting this spot at just this time of the year, for it is the place and the anniversary of a great battle fought between the English and the French in 1442. Where the church now stands is the site of the old English fortress and it was up those same cliffs that we climbed today that Louis XI and his men swarmed to storm the fortress.
Elsie Tranter, In all those lines
Villa Marguerite
Billet for the Australian nurses, and Matron Miles-Walker (and her terrier Jack).
8.8.1917 We are all soon to move to a new billet, Villa Marguerite, a beautiful old place with a fine garden.

7.9.1917 There is a heavy sea fog today and everything seems damp and sticky. We have heard the foghorns and sirens all day. Just a little reminder of boat drill. We are all living now at the Villa Marguerite and in consequence we are feeling quite civilised. The Villa stands in a lovely garden, plenty of trees, shrubs with a winding path leading down to a nice lawn. At each side of one of these paths are pear trees cut low so as to form a hedge about two feet high. The Villa is very nice – kitchen in the basement, dining room and two sitting rooms on the ground floor, bedrooms all upstairs. Matron found some of the pictures rather 'too-too', so has turned them face to the wall. Of course, we haven't looked!! Daisy and I share a room. I sleep in a great big wooden bed, it is very comfy but everything has such a musty smell.

7.11.1917 Some time ago, a travelling concert party gave an entertainment here and some jokes were made about our billet, which is called Villa Marguerite. Someone said, 'Every Marguerite should have a Faust". One day last week the postie brought this to us:

To The Sisters Living at Villa Marguerite, Dieppe
an anonymous contribution

Dear sisters in seclusion sweet,
Who live in Villa Marguerite,
Whose time is given to good deeds
In ministering to heroes' needs,
Who, unsuspecting of all ill,
Your daily task of love fulfil,
Beware! Lest you should start a fire
In hearts which thought not to aspire
To charms like yours, each martial breast
Whilst convalescing is at rest
From war-like thoughts and open, lies
Exposed to Cupid's darts. Keen eyes,
Which undismayed looked off on Death
Unflinching have withstood the breath
Of battles fiercest strain, now fall
Abashed when challenged by the call
Of eye to eye, you know your power
How great the strength of woman's dower.
Be careful, if ye would be wise!
For if you're not-there may arise
Disaster dread. Nor place much trust
In men who promise, when they must,
Fulfil but only when they can
And have, in short, the faults of man.
Remember, for each Marguerite
There is at least one Faust to meet.

20.12.1917 This is a great white land once again. We have had no snow for two days but it is freezing hard and the roads are very slippery. The Villa Marguerite is not so comfortable in winter as in summer. It is very damp – there are icicles hanging on the wall by my bed. Rations have been cut down but we get quite sufficient to eat.

12.8.1918 The garden here at the Villa is very beautiful just now, just like a wood – lovely big trees with ivy climbing up the trunks and wonderful undergrowth – ferns, daisies, violets and wild strawberries. There is not much of a flowering garden but we have had some fine roses. A winding path leads from the house to the badminton court and as a border, the pear trees have been pruned so as to form a low hedge about two feet high.

There is a veterinary camp near here and the boys there all take a great pride in their camp. They have bright little gardens outside their tents and huts. Yesterday they sent us a huge bunch of dahlias, snapdragons and marigolds.
Elsie Tranter, In all those lines
… billeted in a charming house and had everything one could wish for to make life happy. We had a 'Tommy' as cook and you could not have recognised army rations in the excellent dinners he served up every night. Here for the first time I worked the hours generally set in Australian Hospitals that is: – one whole day per week off duty, and alternate long and short days. There was a golf course nearby and I was able to play quite often, there was also a tennis court built us by a French Baron who owned a house close to ours and if we brought visitors to the house … Miss Mills-Walker [Miles-Walker] who was Matron welcomed them and made the atmosphere quite that of a home.
Sister Leila Brown, AWM nurses' narratives – Sister Brown was attached to No. 5 S.H. from 19.3.1918 – 25.6.1918
Villa Marguerite today
We think the present-day Villa Marguerite is the same house (Google Maps location).
Images & resources