Étaples
Étaples is a very old fishing town and port, which lies at the mouth of the River Canche in the region of Pas de Calais in Picardy. The Étaples Army Base Camp, the largest of its kind ever established overseas by the British, was built along the railway adjacent to the town. It was served by a network of railways, canals, and roads connecting the camp to the southern and eastern fields of battle in France and to ships carrying troops, supplies, guns, equipment, and thousands of men and women across the English Channel. It was a base for British, Canadian, Scottish and Australian forces.

The camp was a training base, a depot for supplies, a detention centre for prisoners, and a centre for the treatment of the sick and wounded, with almost twenty general hospitals. At its peak, the camp housed over 100,000 people; altogether, its hospitals could treat 22,000 patients. With its vast conglomeration of the wounded, of prisoners, of soldiers training for battle, and of those simply waiting to return to the front, Étaples could appear a dark place. Wilfred Owen [Collected Letters. Oxford University Press] described it as,

A vast, dreadful encampment. It seemed neither France nor England, but a kind of paddock where the beasts are kept a few days before the shambles … Chiefly I thought of the very strange look on all the faces in that camp; an incomprehensible look, which a man will never see in England; nor can it be seen in any battle, but only in Étaples. It was not despair, or terror, it was more terrible than terror, for it was a blindfold look, and without expression, like a dead rabbit's.
Iso Rae in Étaples: another perspective of war – Betty Snowden, Wartime Issue 8, AWM
Mapping Étaples
Sources:
Elsie Tranter's diary
2.3.1917 The streets are very narrow, indeed in one part so narrow that you could touch the walls on either side from the car. We passed through the village, along past some farms, under a railway bridge, past the motor ambulance depot (which, we are told, is called 'Thumbs Up Corner') to the Land of Hospitals. Here before us was a stretch of six kilometres of hospitals. This district, Camiers and Etaples, takes 6 500 patients. This hospital, No. 26, takes 2 600. The nursing staff, including VADs and special military probationers, number eighty-five. It is a regular city of huts and tents. Hospitals on one side of the road, officers' and sisters' quarters on the other…

26.3.1917 We have large training camps round us here for Australian, New Zealand, English and Scotch troops. Thousands of men pass by every day. Day after day we say 'Goodbye and good luck' to lads with their full kit on, on their way to that well known place 'up the line'. There is a continual tramp, tramp all day long. Each morning just after breakfast, we see hundreds of soldiers passing on their way to the 'Bull Ring' for drill. They are usually headed by the Australian band…

The village of Etaples is filthy dirty-such narrow, pokey little streets and-no decent drainage-so if you take two sniffs when going through 'Paradise Alley', you are indeed proving yourself a glutton. The housewives do not seem to be very tidy, in fact, they are not a bit fussy and when walking on the footpaths you have to dodge basins of rubbish and pails of water all the time for they just open their front doors and fling the rubbish out into the street.

Most of the shops are built facing onto a square. Just near the square is an old stone building where Napoleon once stayed. It is now used as a wine and spirit store. On Tuesday and Friday mornings there is a street market where you can purchase anything you require, from a needle to an anchor. Barrows and stalls with fruit, fish, vegetables and clothing of all description. Pigeons and rabbits killed while you wait…

2.5.1917 At present, our work in the theatre is hard and we have very long hours. We are on duty most days from early morning till very late at night. Three times this week it has been well into next morning when we have got to bed, then Sister Shann and I take it night about for emergency calls. These calls, unfortunately, are rather frequent and as they are almost invariably for haemorrhage, we have to be very quick in getting across from our tents to the theatre. Today I had to assist at ten amputations, one after another. It is frightfully nerve-wracking work. I seem to hear that wretched saw at work whenever I try to sleep. We see the most ghastly wounds and are all day long inhaling the odour of gas gangrene. How these boys suffer! This war is absolute hell. We see and hear all day and every day the results of its frightfulness. We can hear the guns quite plainly here.

Dame Nature is treating us to a feast of beauty in the outside world. Flowers are everywhere. Never have I seen such gorgeous tulips, all shades, brown, gold, red, and such perfect blooms.

As we come over to lunch, we usually see the fishing fleet going out to sea. The hospital is on a bit of a slope, then beyond the railway siding there are sand dunes, then the mouth of the River Canche widening out into the sea and. beyond this, a belt of woodland leading to Paris-Plage. Imagine this with a perfectly blue sky, the sunshine dazzling on the water and the brown sails of the fishing vessels and there you have our best tonic for the day. It is refreshingly beautiful. If only we could carry the calm of these few moments through the turmoil of the long days and wearying nights – but we don't…

13.6.1917 This morning at sunrise I was making beds and looked out to the river just in time to see the fishing fleet going out. The water was still and mirror like and each little boat with its brown sails was clearly reflected. It was a beautiful sight…

19.6.1917 The outside world is still very beautiful—flowers everywhere-mignonette, bluebells and daisies. In peace time this spot where the camp is, is a favourite artists' resort as the sunrise and sunset effects here are supposed to be the finest in the world…

8.7.1917 When we had finished breakfast this morning, Daisy and I walked to Paris-Plage to meet Sal and Peg. It was a long walk but the air was so beautiful that we did not mind the distance. The woods seem to have an added charm each day. One could rhapsodise over France as she is now, decked in her green verdure. It is hard to realise that so near to us there is such a dreadful war raging-when we are gazing at the – wonders of nature and when, for a while, the sound of the guns is stilled…
Excerpts from Elsie Tranter, In all those lines
Air raids
"
VENGEANCE

IS

MINE

" by Vera Brittain

IN MEMORY OF THE SISTERS WHO DIED IN THE GREAT AIR RAID UPON HOSPITALS AT ETAPLES
Etaples bombed
20.05.18. Etaples bombed: Received telephone message from A/Principal Matron, Etaples, saying that the Etaples hospitals had been severely bombed during the night. One Sister (Nursing Sister K. Macdonald, CAMC) had been killed and 7 wounded at No.1 Canadian General Hospital, also many patients and personnel. At No.7 Canadian General Hospital there were no casualties among the nursing staff but 3 MOs were wounded and some patients killed. The Nurses' Club was wrecked but the two BRCS workers were not hurt. At No.26 General Hospital there were 2 minor casualties among the nursing staff – Miss Marshall, VAD slightly wounded on the head and admitted to hospital, and Miss Draper, VAD slightly wounded in the wrist. One patient only was killed in this unit. Part of the Sisters' quarters were wrecked and one or two of the rooms nearest the railway siding are unfit for use. There were no casualties among the nursing staff at No.24 General Hospital. This unit took in a large number of casualties from the Infantry Base Depot and the Household Cavalry Camp. At No.46 Stationary Hospital one VAD, Miss W. A. Brampton, was somewhat shell-shocked. A number of patients were killed and wounded. At No.56 General Hospital there were no casualties among the nursing staff but some amongst patients and personnel. Nos. 35, 37, 4 and 2 Ambulance Trains were in the siding at the time and were damaged, the only casualty amongst nursing staff being S/Nurse M. de H. Smith, slightly wounded above the eye. The Matron-in-Chief, CEF, the Matron-in-Chief, QAIMNS War Office, and DGMS were informed of all casualties.
01.06.18. Etaples air-raid: Received telephone message from Etaples saying that there had been a very bad air-raid the night before – nearly all the hospitals in the Etaples area had suffered, particularly the St. John's Ambulance Brigade Hospital, Liverpool Merchants' Hospital, 24, 26 and 56 General Hospitals. At the SJAB Hospital one Sister had been killed and 5 wounded and a few others were suffering from shock. At No.24 General Hospital, Miss Freshfield, VAD, had been seriously wounded in the head, and one other Sister had been slightly wounded. Informed Matron-in-Chief, War Office, and BRCS, and DGMS.
12.08.18. Air Raid at Etaples: A/Principal Matron, Etaples, reported that on the night of the 10th they had an air raid lasting about one hour. One large bomb and one small one fell near the Chateau in the ward near 24 General Hospital, and the windows of one hut were smashed. All patients had been transferred to dug-outs. One officer was killed at one of the Base Depots and one died later from wounds. A good deal of damage was done in Etaples town.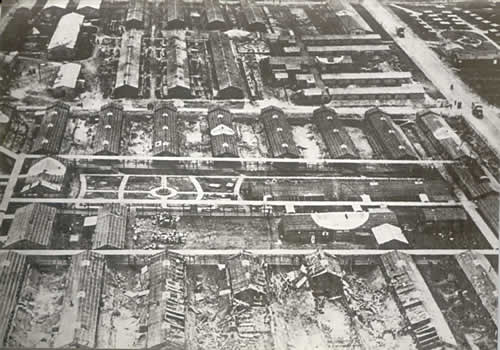 Centre of the flu pandemic?
Étaples was, from a later British scientific viewpoint, at the centre of the 1918 flu pandemic. The British virologist, John Oxford, of St Bartholomew's Hospital and the Royal London Hospital, and other researchers, have suggested that a principal British troop staging camp in Étaples was at the centre of the 1918 flu pandemic or at least home to a significant precursor virus to it. There was a mysterious respiratory infection at the military base during the winter of 1915-16.
Étaples – Wikipedia, accessed 24 June 2011
Undoubtedly, overcrowded conditions on the western front and in the camp, with most of the 100,000 soldiers being housed in tents or temporary wooden barracks, were ideal for spread of a respiratory virus. At this time, ambulance trains were arriving day and night from the Somme battlefield. The camp also had an extensive piggery whilst in nearby villages soldiers could purchase live geese, chickens and ducks. Therefore, the requisite conditions for cross species transfer of avian influenza A virus existed at the camp alongside large numbers of young soldiers in overcrowded conditions and many with a compromised respiratory system after gas attacks. In total, two million soldiers camped in this small region of Northern France, and six million soldiers occupied stretches of the 10 mile wide trench system from the English Channel to Switzerland.
A hypothesis: the conjunction of soldiers, gas, pigs, ducks, geese and horses in Northern France during the Great War provided the conditions for the emergence of the "Spanish" influenza pandemic of 1918–1919 – Vaccine 23 (2005) 940–945
Etaples Military Cemetery
During the First World War, the area around Etaples was the scene of immense concentrations of Commonwealth reinforcement camps and hospitals. It was remote from attack, except from aircraft, and accessible by railway from both the northern or the southern battlefields. In 1917, 100,000 troops were camped among the sand dunes and the hospitals, which included eleven general, one stationary, four Red Cross hospitals and a convalescent depot, could deal with 22,000 wounded or sick. In September 1919, ten months after the Armistice, three hospitals and the Q.M.A.A.C. convalescent depot remained. The cemetery contains 10,771 Commonwealth burials of the First World War, the earliest dating from May 1915. 35 of these burials are unidentified. Hospitals were again stationed at Etaples during the Second World War and the cemetery was used for burials from January 1940 until the evacuation at the end of May 1940. After the war, a number of graves were brought into the cemetery from other French burial grounds. Of the 119 Second World War burials, 38 are unidentified. Etaples Military Cemetery also contains 662 Non Commonwealth burials, mainly German, including 6 unidentifed. There are also now 5 Non World War service burials here. The cemetery, the largest Commission cemetery in France, was designed by Sir Edwin Lutyens.
Commonwealth War Graves Commission
New Zealand base depot sports
Photos Etaples 1910s – Alexander Turnbull Library
Étaples, 2011